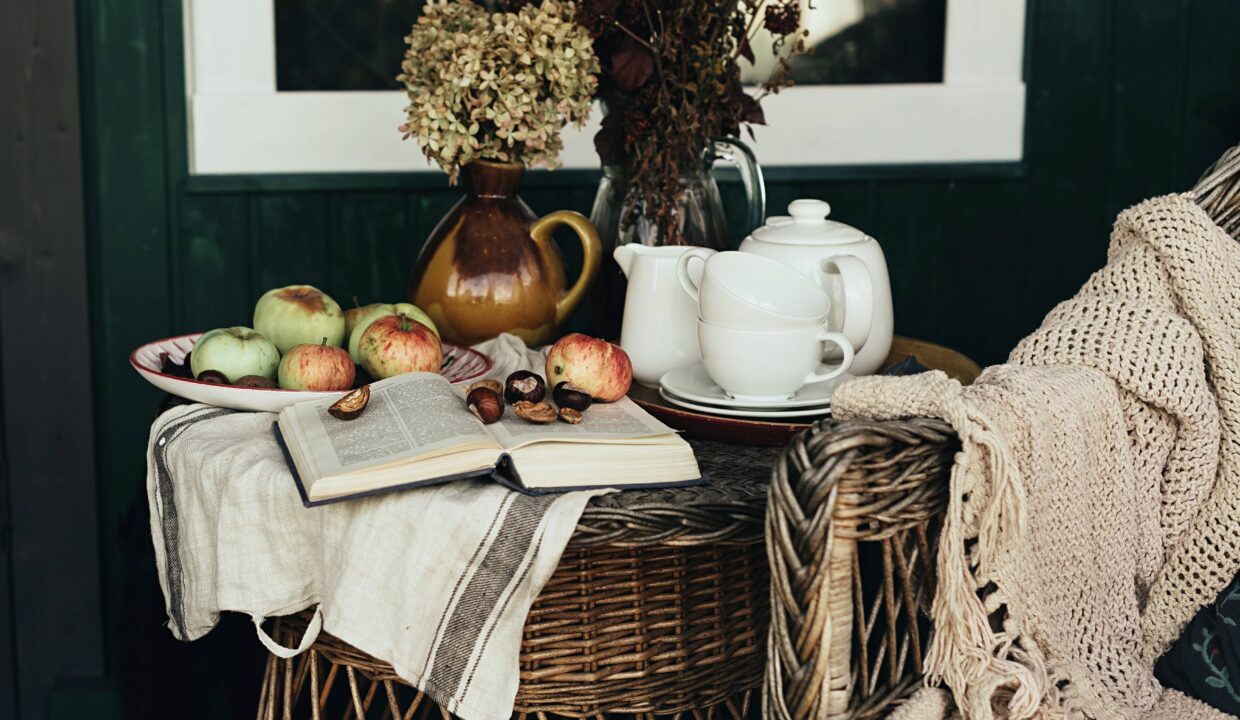 6 Ways To Create Your Own Cozy Cottagecore Home
If you've been anywhere online in the past two years you're probably well aware of the cottagecore look. It's everywhere—from flowy and flowery country or prairie-style dresses to the sudden resurgence of lace doilies on tabletops. If the charm of the English countryside speaks to you or you find yourself inexplicably drawn to an idealized version of farm life, you're clearly not alone. Here are six ways to create your own cozy cottagecore home.
Use Fresh Florals
Lush flowers, lots of houseplants, full-to-bursting herb gardens—everything green is welcome in cottagecore. If you've got a way with plants, embrace it; you can afford to be a maximalist and decorate with as many flowers, grasses, and trees as possible. The look is on trend both inside and out. In fact, there's often a feeling of the indoors and outdoors blending seamlessly, so be sure to address both spaces. The aim? Feeling like you are in a forest or out in the countryside.
Botanical Accents
Even if you're not so great at keeping plants alive, you can still embrace florals. Botanical accents and prints are a huge part of the cottagecore home, so you can indulge in the look through the use of fabrics, wallpaper, art, accessories, and even dried flower bouquets. Florists have even gotten into the game and are a great source for stunning dried-flower pieces and arrangements.
Handmade Treasures
Textiles are a huge part of the cottagecore aesthetic, especially lace, embroidery, needlepoint, and knitting. Some pieces are quite delicate and can be difficult to make, though that certainly hasn't slowed the resurgence of interest in them. Of course with so many talented crafters and great shops around, you can buy a piece or two quite inexpensively. They give off that handmade, cosy feel of yesteryear, evoking memories of past generations.
"Countrify" Your Kitchen
The cottagecore kitchen includes lots of charming details that bring to mind country living. Change up the look of your kitchen simply by incorporating several of the elements already discussed here: live plants, dried flowers, botanical prints, vintage fabrics and rugs. Victorian tea cups, baskets, old books, and even stationery also fit the theme. If you have a piece of vintage furniture or two, even better, as it will add instant charm and warmth.
Employ A Neutral Colour Palette
There's generally a light and airy feel to a cottagecore home but this doesn't mean you are stuck with a palette of cool, boring whites. This look is warm and inviting, best characterized by a mix of whites, creams, and warm tones. Sprinkle in some colour and pattern for interest—usually floral or botanical, and generally muted—and you will have nailed it.
Hang Some String Lights
Is there a design style where string lights don't look fantastic? They go especially well in a cottagecore setting because they fit the mood so perfectly. Hang them casually, draping them in your garden or layering them into a tablescape. Younger fans of this decor style will like the many shapes available: anything from toadstools to flowers, stars to honeybees.
We hope we've inspired you to create your own cozy cottagecore home. It's a look that embraces the past and is the perfect antidote to today's fast-paced lifestyle. Thanks for reading and don't forget to follow along with the Medallion blog for more great home decorating ideas.