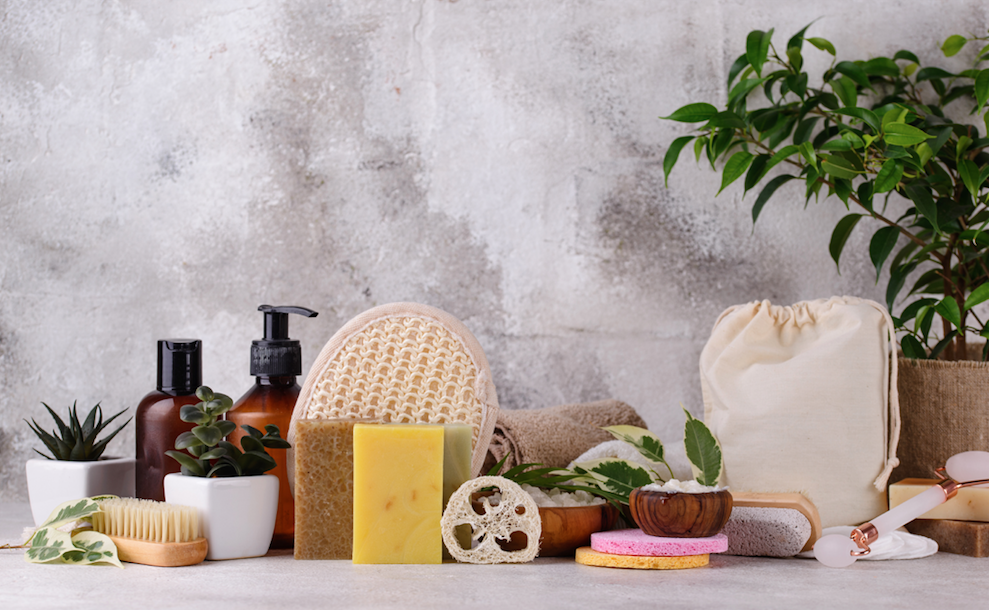 7 Ways To Embrace Sustainability When Living In An Apartment
Whether you're already an expert at sustainable living or you're ready to up your game, Spring is the season to make some positive changes. With so many products, services, and businesses out there who also want to make a difference, it's easier than ever to fine-tune your habits. Here are seven ways to embrace sustainability when you're living in an apartment.
Grow Your Own Herbs
It's the perfect time of year to try your hand at some indoor gardening. We suggest growing your own herbs on a windowsill or other sunny spot inside your apartment. Herbs are pretty easy to grow, even for absolute beginners, and can serve as a great introduction to container gardening. One of the best perks to having an assortment of herbs on hand, of course, is that you can cook with them and add them to any meals you're preparing. If herbs aren't your thing, you could introduce any kind of plant to your home environment; they can help improve indoor air quality and introduce a natural element to your decor.
Use Natural Cleaning Products
When you make your own natural cleaning products you know exactly what has gone into them; you don't have to worry about harsh chemicals on the surfaces you touch every day or in the air you breathe. Try this list of 10 DIY all-natural cleaning products and air fresheners you can make at home from HGTV Canada for inspiration. You could also try using a brand like Blueland; they have come up with a way to keep your home clean while eliminating single-use plastic. Order their Forever Bottles (made of reusable Tritan and glass) and cleaning products (in tablet form) online, then simply fill the bottles with warm to hot water and start cleaning. For more eco-friendly refillable cleaning product suggestions, check out Candice Batista's The Eco Hub.
Meal Plan
According to the City of Toronto, over 50% of the food wasted in single-family households here is avoidable and it is estimated that this costs the average Canadian household over $1,300 a year. One of the best ways to avoid food waste is to spend some time meal planning before you hit the grocery store. Pre-planning your meals for the week ahead makes it easier to buy just what you will need and actually use; these tips from Canada's food guide may help. You're likely to make healthier choices, save time grocery shopping, and get meals on the table faster and with less stress. 
Watch Your Energy Usage
There are several small changes you can make that can reduce your energy usage. When you are home during the day, for example, try to rely on natural light as much as possible, rather than turning on the lights out of habit. Make sure to use energy-efficient light bulbs in all of your lighting fixtures. Powering down your electrical devices also helps, as most household appliances and home electronics draw power 24/7, even when not in use. This "standby power" continues to draw from the grid unless you unplug your devices from the outlet or, if something is plugged into a power bar, you turn the power bar off. 
Avoid Excess Packaging
We can get lulled into thinking that as long as we're recycling it's okay to continue to shop the way we always have, but a more eco-friendly approach is to carefully consider each new item we bring into our homes—especially when it comes to packaging. Where possible, try to buy products and food from local sources and shop at low- or zero-waste stores. To extend the use of any existing containers, try a local refillery service; this list from Let's Go Zero Waste is a great resource to get you started. 
Reduce Your Overall Consumption
Many of us are rethinking our spending and shopping habits, and want to reduce the amount of waste we create. Reducing your overall consumption can help, as can buying versions of essential home cleaning and personal care products that are more sustainable and eco-friendly. If you're interested in learning how to be a more conscious consumer overall, in every category, these three books can help: All We Want: Building the Life We Cannot Buy by Michael Harris, The Day the World Stops Shopping by J.B. MacKinnon, and Don't Be Trashy by Tara McKenna. Find them at your local library.
Use Active Transportation
Walking or biking as much as possible benefits more than your health, it also minimizes damage to the environment. When you're choosing a rental apartment, consider the location and how easy it will be for you to get around on foot; research the Walk Score, Bike Score and Transit Score for your address beforehand. Proximity to public transit is key, so you can travel efficiently and not have to rely on owning or borrowing a car. Our residential communities are located in popular neighbourhoods just steps from public transit, making travel easy and convenient.
These are just a small sampling of the ways you can embrace sustainability when living in an apartment. Thanks for reading and don't forget to follow the Medallion blog for more helpful eco-friendly tips.
Looking for a rental apartment home? Visit our website at medallioncorp.com for the perfect place to call home.