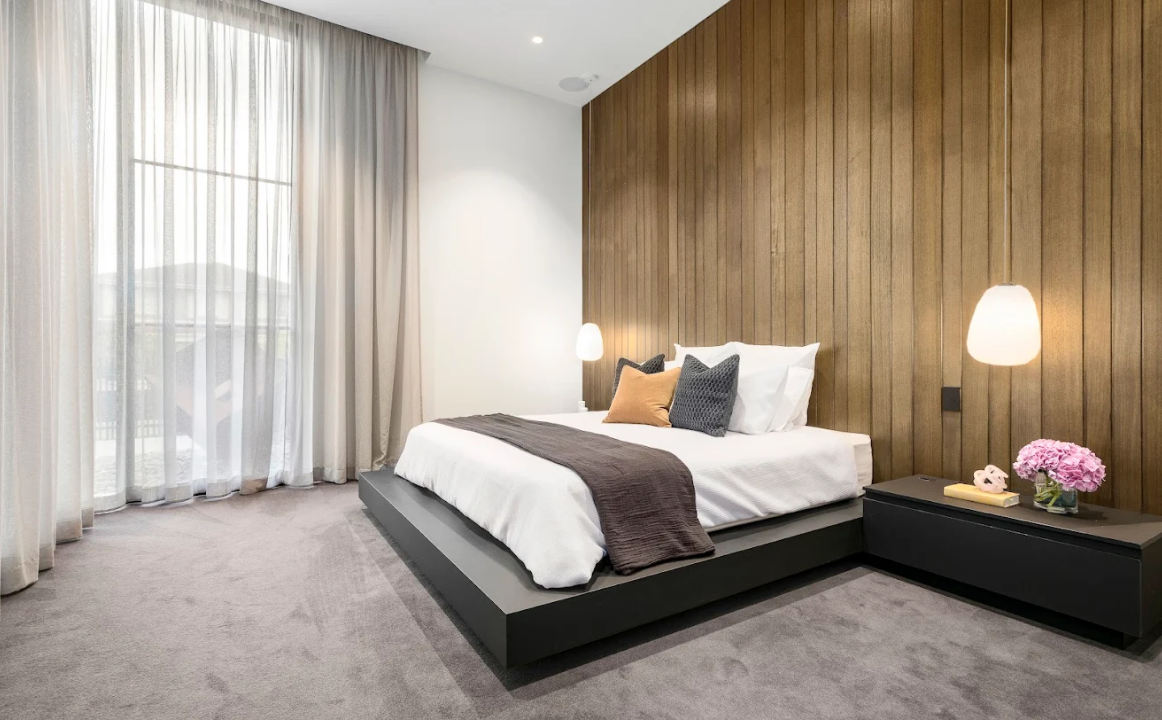 Bedroom Décor Ideas That Promote Sleep
Nothing beats a great night's sleep; you wake up invigorated and can take on the day. Can our decor actually play a role in how rested we are? You might be surprised to learn that there are several things we can do to increase our chances of enjoying deep and restful sleep night after night. We've rounded up a few simple bedroom decor ideas that promote sleep.
Stylish Window Coverings
To get the best sleep possible, you need a fully darkened room. Luckily, it's easy to find stylish window coverings at an affordable price. Try blackout blinds or curtains, which have an extra lining to block the light and are available in a multitude of fabrics, including prints or solids. Layering your window coverings can also be quite effective; you can use blinds to control the amount of light that streams in and even just hang side panel curtains that don't actually close, to block any remaining light. When shopping for blinds, consider buying the paper accordion kind, which you can find at any big box store. They can be cut to fit any window width, are easy to hang, adhere well, remove easily, and won't cause any damage.
Layered Bedding
No matter what time of year, cozy bedding is a must. A well-made bed can score serious décor points but also promote a great night's sleep. To be ready for whatever the weather throws your way, layer your bed with sheets and blankets of varying thickness and weaves. This way you can quickly throw off a layer if you overheat or banish the cold if you start to feel a little chilly. Make sure your bed linens are soft and breathable. Don't forget a supportive pillow; you can choose one based on your preferred fill type (down, foam, down-alternative, hypo-allergenic), sleep position, or both.
Lower Wattage Lighting
It's important to dial down the illumination as you approach bedtime—this is an important part of any good sleep hygiene routine. One of the easiest and least expensive ways to do this is to have at least one light source in your bedroom that you fit with a lower wattage bulb. In that last hour before bed, turn off the rest of the lighting in the room and set the stage for a restful night. The dimmer light will help signal to your body that it's time to wind down; it also creates a calm and soothing atmosphere.
Remove Visual Clutter
One of the easiest tricks to creating a calm and serene space is to watch the clutter. Keeping tchotchkes, paperwork, and stuff to a minimum helps to keep your mind clear of worry and distraction. Try to keep nightstands, bedside tables, and tops of dressers clean and with minimal decorative objects. A few key pieces or accents are all you need for a stylish space—and your bedroom will be easier to keep tidy with fewer objects lying around.
Hide Away Any Tech
We all know that we're not supposed to keep any tech or electronics in the bedroom if we want to ensure a good night's sleep, but that might not always be possible. Instead, we think it's best to just hide your devices away, cleverly tucked out of sight. Use an armoire or a cabinet, ideally something that will block any light from your power cords or charging cables. Pick a piece that will look great in your bedroom and enjoy the added storage space.
Try some of these bedroom décor ideas that promote sleep and see how they help improve the quality of your rest. Thanks for reading and don't forget to follow the Medallion Blog for more great home décor tips.