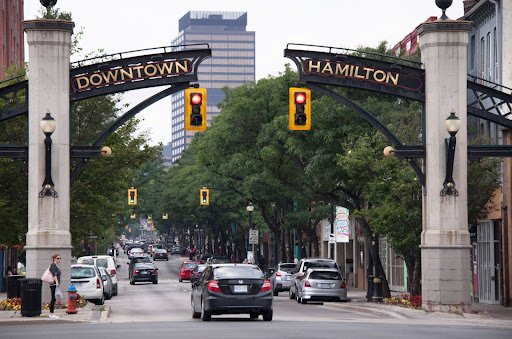 Why Downtown Hamilton is Becoming the Ultimate Destination for City Living
Downtown Hamilton, Ontario, is a vibrant urban hub that blends its rich history with modern energy. Characterized by its stunning heritage buildings and bustling streets, the area offers an eclectic mix of shops, restaurants, and cultural venues. As the city's heart, it's a magnet for both locals and visitors seeking to experience its unique ambiance, arts scene, and evolving waterfront. Hamilton's downtown offers a dynamic community, for people of all ages to not just live in, but thrive.
Here's your ultimate guide to downtown Hamilton:
Connectivity
Downtown Hamilton is home to an impressive transit system, making it a convenient hub for residents and visitors. The Hamilton Street Railway (HSR) offers extensive bus routes throughout the downtown core connecting to wider city regions. At Main St. and James St., you can find several connecting routes to the Southern part of the city. To travel from downtown to the Mountain, you can find several options at the Frank A. Cooke Transit Terminal. With frequent services and stops, it's easy for commuters to access key destinations within the city. The Hamilton GO station is just minutes away from Medallion apartments in the area, like 47 Bold Street, and its central location allows for easy commuting across the GTA.  Additionally, the forthcoming LRT along King St. and Main St. corridor promises to further enhance transit options, ensuring that Downtown Hamilton remains a well-connected, transit-friendly center in Ontario.
Parks & Recreation
Downtown Hamilton is a delightful blend of urban greenspaces and artistic flair. The city's parks, such as Bayfront Park and Gore Park, offer serene escapes amidst urban surroundings, perfect for leisurely strolls or picnics. From Concession Point at Sam Lawrence Park, you can catch a breathtaking view of Hamilton's skyline. Complementing nature's art show, this city is also home to more than a few renowned art galleries. At The Art Gallery of Hamilton and Westdale Gallery, you can explore a rich collection of contemporary and historical art pieces. Or discover a home from the Victorian era with original furnishings at Whitehern Historic House & Garden. Together, the parks and galleries make Downtown Hamilton a vibrant hub of nature and creativity.
Education
Downtown Hamilton stands as an educational nexus, offering a plethora of options for learners of all ages. The neighbourhood boasts more than 15 elementary and high schools, ensuring a solid foundation for younger students. For those pursuing higher education, there are 11 undergraduate and graduate institutions in the vicinity. Notably, McMaster University, renowned for its comprehensive programs, and Metropolitan College, add to the academic vibrancy of the area. This rich educational landscape positions Downtown Hamilton as a hub for academic excellence.
Cafés & Restaurants
Downtown Hamilton offers a diverse range of cafés and restaurants so there's something for everyone. Enjoy the crisp winter air with a hot cup of freshly brewed coffee at Durand Coffee, famous for its aromatic blends. If you're seeking a laid-back ambiance, head to The Pheasant Plucker, a pub with a relaxed vibe, perfect for casual gatherings. At Acropolis Greek Taverna, you can indulge in Greek flavours with their signature Chicken Souvlaki Pita Sandwich, and end the meal with their Greek Baklava. Bronzie's Place offers classic Italian dishes like Veal Parmesan and Gnocchi, bringing the rich flavours of Italy right to Hamilton's heart.
Groceries & Shopping
In Downtown Hamilton, residents enjoy a modern blend of traditional and futuristic grocery shopping experiences. Aisle 24 offers a glimpse into the future with its fully automated shopping, while those seeking natural and organic selections can head to 'Goodness Me!' or Big Bee Food Mart. You can also find more affordable options like No Frills, Shopper's Drug Mart and Dollar & Convenience in the same vicinity. When it comes to shopping outlets, the area doesn't disappoint: Main Hess Mall, Jackson Square, Centre Point Plaza, and Hamilton Mall present a diverse range of stores and boutiques, catering to every shopper's needs and tastes.
Considering all the points mentioned above, Downtown Hamilton is one of the best places to live in Ontario. Visit the Medallion Apartment Finder Tool to check out our properties in Hamilton.