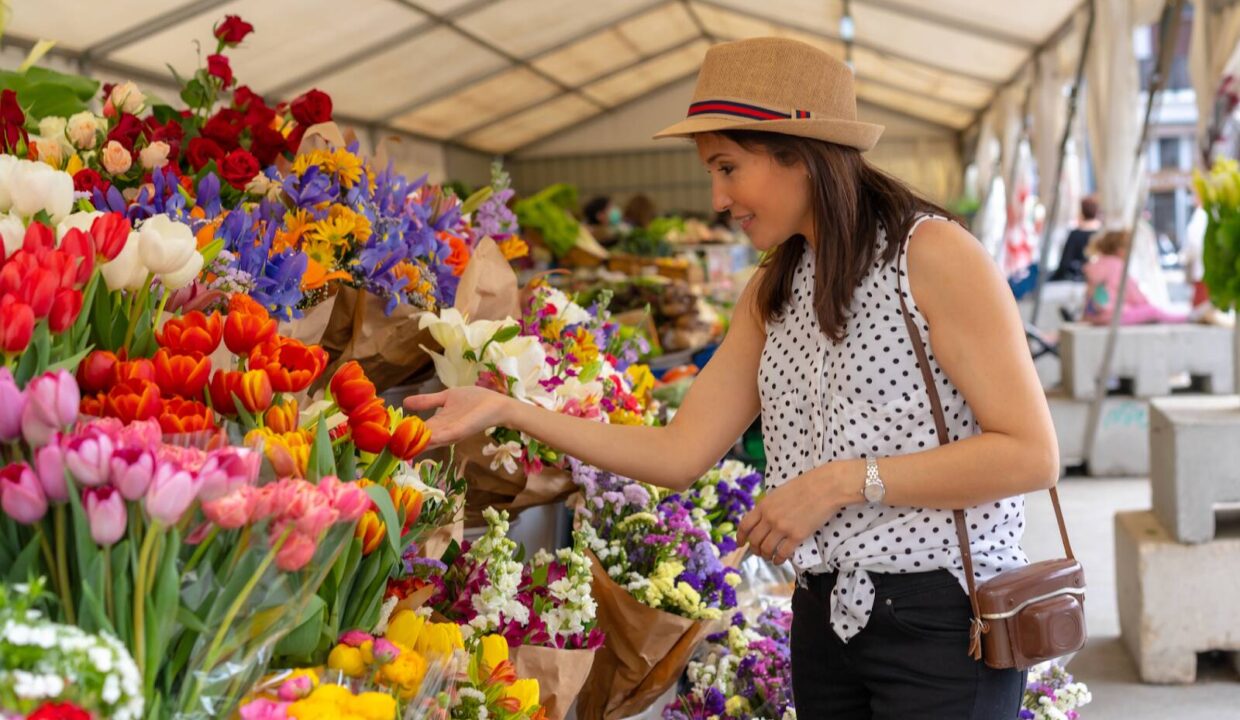 5 Must-See Places This Spring In London, Ontario
This Spring, let's soak up every minute we can of the blue skies, sunshine, and warmer temperatures, and in some of the city's most scenic destinations! There's no better place to do this than Forest City, with its many parks, trails, gardens, and impressive canopy of trees. Our favourite spots to while away the hours outdoors this Spring include these 5 must-see places in London, Ontario. While they're certainly worth a visit any time of year, they really come to life in the Spring.
Wander The Aisles At The Spring Weekend Market 
Covent Market is a massive indoor market in downtown London that has been attracting visitors since 1845. It features over 50 unique merchants who offer the freshest fruits, vegetables, meats, and cheeses, and there are over 20 restaurants and a variety of specialty shops and services. One of the highlights on the calendar is the Spring Weekend Market. Upstairs on the Mezzanine, some of the market's favourite vendors put on a special Spring-themed sale that includes more than 20 amazing local artisans, a few treats to get you in the Spring spirit, and a beautiful floral photo opp for visitors to enjoy. Come hungry and ready to shop!
Step Into The Magic At Storybook Gardens
Storybook Gardens is a delight for all ages and it is an especially magical place to go if there are any young children in your life. Little ones are sure to love the Vintage Storybook Chapel, Frog Pond Lookout, and Gnorbert's Gardens, as well as the chance to see several of their favourite storybook characters. There are lots of attractions to keep them busy, from the Miniature Play Village to Adventure Island, Hands in the Sand play area to the Leaping Lily Pad Jumping Pillow. The Springbank Express miniature train is a great way to see the whole park; it has operated for over 100 years! When you've worked up an appetite, there are concessions available. Be sure to check their calendar before you go so you can plan your visit.Admire Intricate Carvings On The Tree Trunk Tour
London's Tree Trunk Tour is a one-of-a-kind walking tour and public art display, where you travel on foot between impressive tree carvings that each tell a story. All of the trees are located within the Woodfield Community Association boundaries and there are about 20 art-gallery-quality carvings in total. Each one takes about 4 weeks to complete, with 95% of the carving done by chainsaws; the rest of the detailed finishing is done with chisels and power rotary tools. The artwork is then usually painted or stained and coated with an enamel to help protect it from the weather and preserve it. The Tree Trunk Tour is a wonderful activity to do with a friend – take some photos and decide which one is your favourite!
Take A Leisurely Stroll Through Victoria Park
Feast your eyes on all of the blossoms and buds that Spring brings, as you stroll through London's picturesque Victoria Park. This 18-acre park is home to some big music festivals that draw huge crowds in the summer, but in the Spring it is quiet and a joy to explore. Wander by the amphitheatre, monuments, gardens, pavilion, and skateboard park, snapping photos or just soaking in the scenery. Because the park is downtown you're never very far from the action, so when you're done exploring, be sure to pop into the beautiful shops on Richmond Row, or grab a bite to eat at one of the restaurants, lounges, and bars. 
Hike Your Way Through The Thames Valley Parkway
The Thames Valley Parkway is a 40-km trail that follows along the banks of London's Thames River. Most of the trail consists of an asphalt path, which makes it ideal for walkers, joggers, runners, and cyclists. It connects to a number of other local trail systems and neighbourhood parks as well. This is a great spot for a casual hike as it is a flat walk that isn't too difficult for beginners. The trail even runs right through Western University campus. 
We hope you make the most of the glorious weather and enjoy these local spots this Spring. Thanks for reading and don't forget to follow the Medallion blog for more sightseeing destinations in London.
Looking for an apartment to rent in London? Visit our website at medallioncorp.com to find the perfect place to call home.