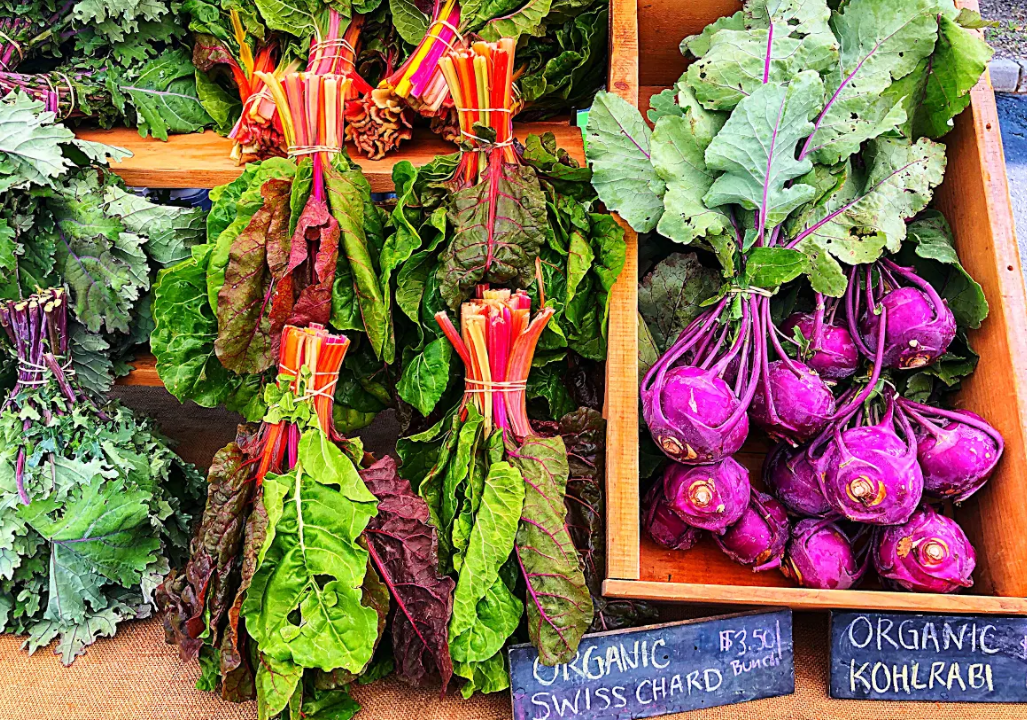 The Best Farmers Markets In Toronto
Sometimes it's the little jaunts around town that we look forward to the most, a chance to get outside, explore on foot, and do a bit of shopping. Now that farmers markets are opening for the season throughout the city, it's the perfect time to draft a grocery list, grab a reusable bag or two, and head out. Those with an extra sense of adventure might want to plan a visit to a different market every week—there are certainly lots of options, scattered throughout a variety of neighbourhoods. Start with these farmers markets in Toronto, then add to your list!
Toronto City Hall / Nathan Phillips Square
Every Wednesday morning, enjoy the market at Toronto City Hall and Nathan Phillips Square. This particular one has been running since 1990 and takes place rain or shine every week from mid-July to late October. Coordinated by Ontario Farm Fresh, it's known for its strawberries, peaches, cheese, bread, honey, preserves, and stunning fresh flowers. Several Covid safety precautions are in place, including a controlled market entrance and exit, sanitizing hands upon entering, and maintaining social distancing throughout. Wearing a mask is recommended.
Dufferin Grove Farmers Market Web Store
Last year the always popular Dufferin Grove Farmers Market pivoted to offering an online web store. They have a huge assortment of vendors to choose from, covering all categories, from baked goods and prepared foods to fruits and veggies, meat and dairy, seeds and seedlings, preserves, and even crafts. Place your order online, then pick-up from the parking lot at St. Anne's Church at 270 Gladstone Avenue. Orders can be placed between 12 pm Saturday and 12 pm Tuesday; pick-ups happen Thursday afternoon in a specific time slot. You can also have your groceries delivered.
Trinity Bellwoods Farmers Market
Tuesdays, from late afternoon to the early evening, be sure to visit the Trinity Bellwoods Farmers Market. Their mission is to support and increase access to fresh, local, sustainable, naturally grown and certified organic agriculture. It's a great place to find fresh-from-the-farm produce, freshly baked bread, and artisanal treats; they even sell wine! Some of their vendors offer the option of pre-ordering and prepaying online, with pick-up at the market. Market organizers take Covid precautions very seriously and are committed to providing a safe shopping experience for all.
The Junction Farmers Market
The Junction Farmers Market runs Saturday mornings and is located on the Junction Train Platform. Local farmers, food purveyors, wineries, and an assortment of pop-up vendors sell their goods at this small, friendly market. You'll find produce, flowers, coffee, cheese, soda, microgreens, wine, dips, baking, sausages, pasta, empanadas, cider—there's such an amazing array of delicacies to choose from.
Cabbagetown Farmers Market
Riverdale Park West is the site of the Cabbagetown Farmers Market, which takes place every Tuesday afternoon and runs until October. The market is dedicated to providing local, sustainable foods for members of the Cabbagetown community and beyond. Here you'll find organic foods, wine, maple syrup, coffee, fresh fruits and veggies, baked goods and prepared dishes. Farmers come from all over Southern Ontario to share their products and there is a huge assortment to enjoy.
Why not head out this weekend and discover a farmers market close to home, or venture a little further afield and try one you've never been to before? Thanks for reading and don't forget to follow the Medallion blog for more great tips on making the most of summer in the city.