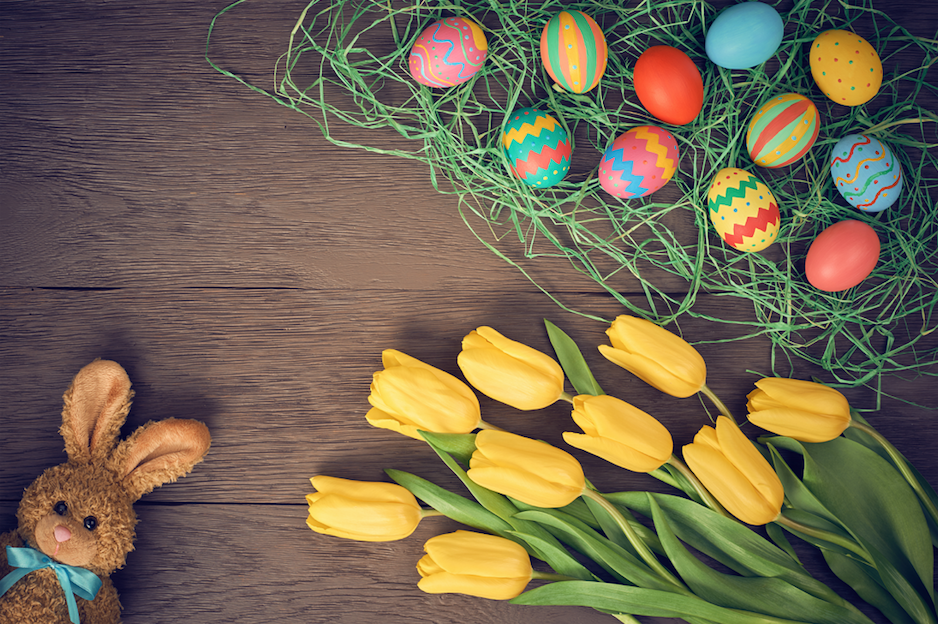 What To Do In Toronto This Easter Long Weekend
If you're looking to get out and about this Easter, we've got some terrific ideas lined up. They'll help you celebrate spring in a variety of ways, from eating and drinking something seasonal, to getting your photo taken with the Easter Bunny, to getting out and mingling with fellow members of the community along a parade route. Most are IRL affairs but we made sure to include a virtual option (which is equally as fabulous) too. Here is our list of what to do in Toronto this Easter long weekend; be sure to slot your favourites into your calendar.
Go On An Easter Egg Hunt
If there are any little ones in your life, you'll want to take them on this amazing easter egg hunt. Kids 12 and under can search for over 25,000 eggs, candy, toys, and treats in a hunt done on a grand scale indeed. Start times run from 9 am to 3 pm and, to keep things fair, will be organized into four different age groups. Please note that to participate in the Hopping Down The Bunny Trail Easter Egg Hunt and Kids Easter Run, you need to pre-register. There will also be vendors, activities, fun crafts, and a chance to get your photo taken with the Easter Bunny.
Watch A Parade
Spend some time in the fresh spring air, amid friends and neighbours, and enjoy all the colour, music, and good cheer of an old-fashioned parade. The Toronto Beaches Lions Club Easter Parade takes place Sunday, April 17th at 2:00 pm. Beginning at Queen Street and Munro Park, the celebration proceeds west along Queen Street, ends at Woodbine Avenue, and lasts about two hours. Pick a good spot with great sightlines along the parade route and get comfy!
Get Cuddly With Some Adorable Pets
It's the season of fluffy bunnies and chicks, to be sure—but don't forget the puppies and cats! The Canadian Pet Expo is Canada's largest family pet show and there's a full slate of events scheduled to keep you entertained all weekend long. You can shop for your pet, watch some cool shows and presentations, and learn about responsible pet ownership at this pet-friendly event. There's even a small animal village featuring hamsters and rabbits. Keep an eye out for some special celebrity pet appearances too! The show is held at the International Centre in Mississauga. 
Take A Food Tour Or Do A Virtual Tasting
Tasty Tours Toronto is offering an Easter Sweets Chocolate Tour, which, if you have a sweet tooth, sounds like too good of an experience to pass up. Attend a virtual chocolate tasting from the comfort of your home; you'll learn how chocolate is made and how to savour chocolate like a professional. Of course you'll get a box of goodies sent to you ahead of time, to help to support this very important learning. Prefer to venture out? You can also take part in an in-person Easter Food Tour through Kensington Market and sample cuisines from all over the world. Both events take place on Sunday, April 17th; tickets must be purchased in advance.
Treat Yourself To A Fancy Easter Brunch
We've all been doing a lot of cooking over the past two years, so why not take the day off and treat yourself to a leisurely holiday brunch? There are a number of great options in the city and this is just a partial list. Try Joni Restaurant at the Park Hyatt Toronto, a bountiful Easter Buffet at The Old Mill or the Omni King Edward Hotel, or TOCA Trattoria at the Ritz-Carlton. This is certain to be a busy weekend, with many excited to be out and about, so reservations are definitely in order.
Be sure to take some time out to celebrate spring this weekend. Thanks for reading, and don't forget to follow the Medallion blog for more great entertainment ideas in the city.